P3 - Miss Falls / Miss Conway
A warm welcome from Primary 3 and Miss Falls and Miss Conway. This year we are now in Key Stage 1.

In Literacy we read three times a week and every morning we take part in Accelerated Reading and we are enjoying meeting our target and colouring in our sunflower. We can join the mobile library van and change our library books every fortnight. In class we learn about different types of writing. Also this year we will have new reading books.
Every night we have spelling homework with a spelling check every Friday.

In Number we work within 100 and learn to use mathematical language. We work on shape, measures and time and use Bee Bot and other resources to investigate movement and position.

We explore many topics through World Around Us. This year we are beginning to play tunes on our tin whistle. We are also trying to say our prayers on our own as we will make our First Holy Communion next year.

We need our parents to help us to do our homework as we want to always do our best. We ask that parents sign the homework diary every night.
Class Photograph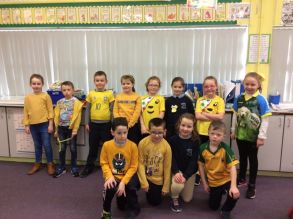 &nsbp;
St. Peter's Primary School, Plumbridge, 415 Lisnaragh Rd, Plumbridge, Omagh BT79 8AF Phone: 028 8164 8412